TotalRSZ是一个TotalCommander(以下简称TC)的packer插件,主要用来批量修改图形文件大小或者对图形文件批量裁剪。图形处理算法采用GraphicsMagick的Magick++库。GraphicsMagick的图形处理功能十分强大,TotalRSZ只是用到了其中极小的一部分。

关于Total Resizer (TotalRSZ)
Total Resizer (TotalRSZ)是一个TotalCommander的Paker/unpacker插件。其主要功能是批量修改图形大小。
TotalRSZ利用GraphicsMagick来修改图形大小,支持多种图形格式。 TotalRSZ是免费工具。
为了能够支持对文件夹的支持,TotalRSZ借用TC的packer插件中的压缩功能:也就是在TC中是通过使用"Alt-F5"来调用的。
安装
在TotalCommander中打开TotalRSZ.zip可以自动安装该插件。另外,用户也可以手动安装TotalRSZ:把TotalRSZ.zip解压缩,
把得到的TotalRSZ.wcx放到Total Commander所在的目录,或者其他你觉得适合的地方。然后打开Total Commander,选择菜单:
Configuration–>Options…–>Packer
点击按钮"Configure packer Extension WCXs",
然后在出来的对话框中,在"All files with extension (ending with)"
所对应的那个框中写入rsz,然后点击"New type"按钮。选择TotalRSZ.wcx。
然后点击Ok,就算搞定了。
使用
在TC里,选择一个或者多个图形文件,比如JPEG文件,按下"Alt+F5″。在压缩格式那里选rsz,
然后点击OK,然后在TotalRSZ的对话框中选择合适的参数。TotalRSZ将会按照这些参数,对原
图形进行缩放。新文件的路径则是当前TC的另外一个目录树所显示的路径。
TotalRSZ也可以对目录进行操作,如果选中目录的话,TotalRSZ会遍历其中所有的子目录。
一些说明
1。关于目标文件名,那个$(FileNameNoExt)是缺省填入的,代表源文件的文件名,你可以就用
这个缺省设置,也可以加上前后缀比如AAA$(FileNameNoExt)BBB等。但是$(FileNameNoExt)必须
存在,否则程序会提 示你文件名不正确。
2。关于目标文件格式,你可以选择选项1,也就是和源文件格式相同。比如你是对目录操作,
如果目录中的文件格式有多种,如果选中这个选项的话,目标文件格式和源文件的分别相同。
你也可以选择选项2,也就是统一目标输出格式。
3。关于目标图形大小,同样有两种选择:一是给定大小,二是给定百分比。不管是那种方式,
目标图形将保持源文件的宽、高比例。如果给定大小,比如像下图中的宽为500,高为400,
如果原图的比例正好是5:4,则会按照设定的大小缩放;如果原图不是5:4 的比例,则以在和
原图相同的宽、高比的前提下,取其中一边的设置,而所需的另一边小于设定的原则来确定最
终目标图形的大小。举例,如果原图的比例是1:1,则目标图形大小为400×400;如果原图比例
是5:3,则目标图形为500×300;如果原图比例 为3:4,则目标图形大小为300×400。
版权
Copyright (C) 2004-2012 W. Dong, taohe@hotmail.com
本软件可免费使用于任何用途。但请在文档中保留这段。
对可能由于使用这个软件而造成的任何损伤,本作者将不负任何责任。
鸣谢
GraphicsMagick的版权归GraphicsMagick Group. 关于GraphicsMagick的版权,
请阅读GraphicsMagick_Copyright.txt。
屏幕截图
新的界面如下图所示,多线程处理可以通过线程数控制:如果线程数是0的话,将不创建工作线程。TotalRSZ支持多语言界面(下载文件中包含英文,中文简体,中文繁体,以及德语语言文件)。界面显示语言可以通过插件的配置对话框设置,设置信息保存在和插件同目录的一个xml文件中。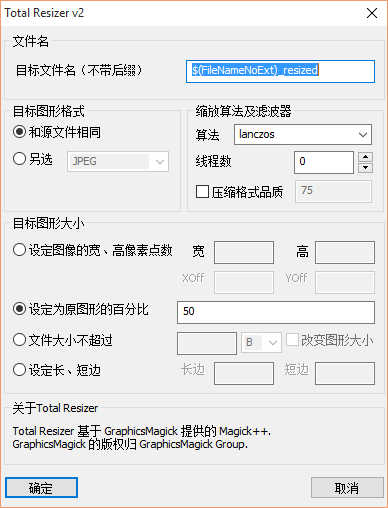 另外,TotalRSZ也根据插件编程接口v2.1做了一些升级。如果在TC 7.5及以后版本中使用的话,TotalRSZ可以被放置到后台执行。
新版TotalRSZ v2.3包含32位和64位Windows Shell Extension,可以不用TC,在Windows Explorer中有鼠标右键使用
下载
从本站下载页面下载
更新日志
v2.6 build 350, 08 November 2015
Fixed: Saving the parameter of setting image quality so that it's preserved cross sessions.
Added: A new option to preserve the original image meta data including Exif.
v2.5 build 310, 19 April 2013
Added: An option to resize and replace the original file.
v2.4 build 300, 10 April 2013
Added: An option to preserve the original file's timestamp.
Added: An option to output to the same directory as the input.
v2.3 build 280, 23 June 2012
Fixed: Saving and loading parameters XOff and YOff.
Fixed: Multi-threading issue when used with the Shell Extension.
Added: German language file (Thanks to Kurt Lettmaier)
Added: 64- and 32-bit TotalRSZ_Shell (requires Microsoft Visual C++ 2010
Redistributable Package).
Misc: Upgraded to use GraphicsMagick 1.3.15.
v2.2 build 260, 3 June 2012
Added: A new option to allow users to set the default output directory via the configuration. If it's set to a valid directory, the output path passed by TC will be ignored, which is usually the path of the active tab in another panel of TC.
Added: A Windows Explorer Shell Extension to access functions of TotalRSZ. To use it, manually install the included TotalRSZ_Shell.dll by running the following command (Requires Administrator permission):
regsvr32 TotalRSZ_Shell.dll
NB: The included shell extension DLL is for x64 only. There is a known issue if multi-threading is enabled on the main dialog of Totalrsz. Set the number of threads to zero if you want to test the shell extension.
v2.1 build 248, 21 March 2012
Fixed: The previous win32 build was broken for some reason as the result the win32 version doesn't work.
Recompiled GraphicsMagick by setting QuantumDepth to 16 which would run a little bit slower but give higher quality. And re-linked TotalrSZ.
v2.1 build 245, 6 March 2012
Added: A section of references in the document for comparisons on resizing with ImageMagick vs other programs including Photoshop.
Changed: The default resizing filter to lanczos for the first time use of Totalrsz (which was scale previously).
Re-link with the latest GraphicsMagick 1.3.14 which was rleased on 25 February 2012 with some bug fixes.
v2.1 build 240, 4 March 2012
Added: A configure dialog to set the language for the user interface. Currently supported languages include Chinese simplified, Chinese Traditional,English.
v2 build 225, 29 February 2012
Fixed: Resizing to the maximum file size and the preferred width or height wouldn't work if number of threads is zero.
Added: Save and load settings from a configuration file. So the resizing options can be saved and restored in following sessions.
v2 build 185, 26 February 2012
Fixed: A bug with YOff for "crop" option. It would fail to get correct users' input of YOff for crop option.
v2 build 180, 24 September 2011
Fixed: A bug with resizing if only width is given.
Added: A new option to resize images to the desired longer side and/or shorter side. For images with landscape orientation, the longer side is the width and the shorter side the height. For images with portrait orientation, the longer side is the height and the shorter the width.
v1.5 build 165, 18 September 2011
Added: Support of x86-64 to be used with TotalCommander 8.
v1.5 build 160, 5 June 2011
Added: Resize to the preferrred width or height if only the width or height is given.
Fixed: Disable reporting errors when working with directories where there non-image files like Thumbs.db, to make it more suitable for batch processing.
v1.5 build 150, 8 May 2011
Added: Limit the output file size to be equal to or smaller than the given value. Tested with various image types including animated gif files.
Added: An option to set quality for compression of images of jpeg/miff/png types.
Added: Further optimization of the performance.
v1.5 build 110, 4 May 2011
Fixed: A probelem with cropping image files. There would be an error about coalesceImages in v1.5 build 102 and 108.
v1.5 build 108, 3 May 2011
Fixed: A probelem with synchronization of worker threads. There would be a crash when closing some handles in the previous version.
v1.5 build 102, 2 May 2011
Added: Multi-threading implementation to resize/crop files in parallel.
Added: Support of the latest APIs of packer plugin v2.1. When used in TotalCommander v7.5 and later, it can be put in background.
Added: Support of GraphicsImagick v1.3.12.
v1.2 build 52, 29 May 2005
Added: A new item "crop" to the algorithm combobox. If this item is selected, you have to give values of XOff and YOff which are x- and y- offsets of the cropped area with respect to the original top-left.
v1.1 build 33, 26 January 2005
Fixed: A problem with animated gif. Now TotalRSZ can properly handle animated gif files whose frames' offsets are variable.
Added: Version property to TotalRSZ.wcx.
Added: A simple support for Chinese (Simplified). If there is file called Totalrsz_chs.dll in the same directory as TotalRSZ.wcx, it will use Chinese (Simplified). Otherwise, it uses English.
v1.1:
Fixed: A problem with default target image type.
Added: Support for batch resizing of animated GIF files.
Added: Options for various resizing algorithms.
v1.0: